Cash Bandits 3 Slots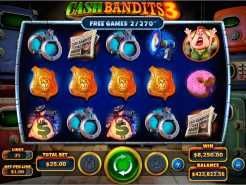 Current Jackpot
$3,129.62
Play Now
Adventure is waiting for players who dare to walk on the wild side in Cash Bandits 3 Slots. Created by Real Time Gaming, this five-reel, 25 pay line online slot game takes players on a thrilling ride featuring a bank-robbing theme, a money-making bonus feature, free spins, multiple jackpots, multipliers, and more. Players can start to play Cash Bandits 3 Slots for as little as $0.01, with additional coin size values including $0.02, $0.04, $0.09, $0.08, $0.07, $0.06, $0.25, $0.03, $0.10, and $0.05. This third version of Cash Bandits Slots also offers multipliers of up to 115,000x.
Cash Bandits 3 Slots Symbols: Wilds, Scatters & More
While the first two versions were well designed, Cash Bandits 3 Slots comes with the best graphics thus far from this slot series. They include a bank teller, the game's logo, a police officer, a police badge, a megaphone, a bank, a donut, a police car, handcuffs, a money bag, a bank robber, money, and a newspaper. The logo for Cash Bandits 3 Slots is the Wild symbol in this lot and will take the reel spot of every other symbol, except the scatter symbol.
Cash Bandits 3 Slots Gives Loads Of Loot With Bonus Features
When it comes to the Vault bonus feature in Cash Bandits 3 Slots, players must land three or more logo symbols if they want to play. When the feature is triggered, players get an automatic five free spins with a double multiplier. Upon the screen, the vault screen will appear, along with six safes and a keypad. The player then must try to guess the code for each of the safes. The player will get some help, depending on how many logo symbols they landed in order to trigger the Vault feature in the place. For example, if the bonus feature was activated by the player landing three logo symbols, they'll get 5 or 6 numbers of help. If they activated the feature with four logo symbols or five logo symbols, they'd get seven or eight numbers of help, respectively. When a player is successful in opening a safe, more free spins and multipliers will be awarded. A maximum of 390 free spins and 23x in multipliers are possible in this highly lucrative bonus feature. Five additional free games will be added to the game if the bonus feature is retriggered during a free spin.