Diamond Dozen Slots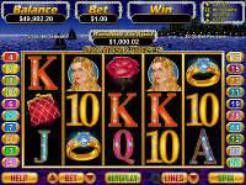 Current Jackpot
$2,438.38
Play Now
Diamond Dozen has just the right name to attract loads of players who are confident of securing a lucky streak. With the slots 5 reels and 20 paylines, the chances are increased for the consistent gamer, because of the numerous ways to win. This slot features a host of great attributes, ranging from scatter symbols that pay out, wild symbols that make crucial substitutions for the win, bonus features and game prolonging free spins. With the reel nice goods available here, you could very well purchase some real life diamonds for that very special girl. Playing Diamond Dozen slots is a welcome respite from the hectic day - download the software or play for free; the choice is up to you.
Here's a little bit more information on the important symbols in the game, as well as the wagering amounts. You can bet between a single cent and $5 on each of the 20 paylines; any seasoned online casino gaming veteran will tell you that's a wiser strategy to play all 20 lines every time you spin. To keep the money you use manageable, put down just a little (or as much as you like, up to the $5 maximum) on each of the paylines. This Real Time Gaming video slot allows you to win a not inconsiderable $3000 on a $20 bet; now that's what you know as a high return on investment!
Now, on to the symbols: the diamond symbol functions as the substitute symbol. If you can get lucky enough for 5 of these to appear on the reels in order, then you win 3000 coins. For 4 diamonds, you get 1000 coins. For 3 diamonds you receive 200 coins. The darker blue diamond is the games scatter symbol. It's also the only symbol that the regular diamond cannot substitute for to complete a winning payline. However, scatter wins have the lovely ability to multiply any of your wins by the total bet. Five scatters leads to 100 coins, as well; 4 scatters guarantees 10 coins and on down to the lower amounts.
The smiling man symbol is good for 2000 coins if 5 of him show up on the reels, 500 coins for 4 of him and 100 coins for 2 of him. The next highest-paying symbol is the lady. She pays out 1000 coins if 5 of her appear, 300 coins for 4 of her and 75 coins for a double. The topaz ring symbol delivers 500 coins for 5 of them, 200 coins for a quintuplet and 50 coins for a triple. The last of the non-poker symbols that pays out is the red rose and bag (together, these make one symbol). Get 5 of these on the reels and receive 300 coins. Get 4 of them and get 50 coins, and if 3 of them appear, you get 20 coins.
Additionally, as pertains to the blue diamond scatter symbol, if you get the listed quantities during the free spins rounds, then you all of your prizes are doubled in value. This leads smoothly into the Diamond Delight bonus feature, where the free spins you enter with can be retriggered - which means that, even while using free spins, you can even more of these extra chances at playing Diamond Dozen Slots. You'll really want to pay attention to the regular (white) diamonds, because 5 of them on any payline leads to $6000 with just a $20 bet if you're using free spins to play at that time.
Once the smiling male host and his lady hostess introduce you to the game, it's mostly in your hands from there. Download in order to play for cash that you can tough, or choose the virtual option of gaming without financial obligation.