Football Fortunes Slots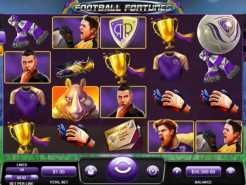 Current Jackpot
$2,356.88
Play Now
All the fans of football will love and appreciate the features and design of the Football Fortunes Slots game that is here to inspire all the players with perfect colors and characters as well as some special rewards. The game was developed by RTG which only means great quality and endless creative features. The developers of RTG are very good at creating popular themed slot experiences for the fans of this popular online gaming. Come join the other great and passionate fans for a game of football and also enjoy the wonderful jackpots and special juicy payouts that Football Fortunes Slots has to offer. With the top payouts worth up to $375,000 this wonderfully themed experience will never disappoint the players. So come try out Football Fortunes Slots and good luck with those special jackpots!
Theme and Symbols
As you could have already guessed by the name of the slot game, this opportunity is all about the world's one of the most popular sports, Football. If you enjoy a nice and entertaining match of a football game, you will love all the details and symbols of this slot machine that also features some special win opportunities to make your time spent with this game beneficial and even more exciting. Some of the most attractive symbols of the game include mascots, balls, players, referees, club logos, trophies, sports jerseys, seasonal cards, a goal keeper's gloves, boots, and scarves. Overall, the game has a great theme and quality design with great graphic effects that are there to surprise and cheer you every time you spin your reels and hit a desirable win! The slot machine is colorful and full of special features making the time you will spend playing the game entertaining, motivating, and of course beneficial. Enjoy!
Game Play
With adorable 5 x 4 reels and 50 active pay lines, the Football Fortunes Slots game is all you need to make your game play fun and flexible. When t comes to betting options, you will have plenty of ways to choose the gaming style that suits your interests and strategies the best. You can start from just $0.01 and $2.50 per line and move to the top amounts from $0.50 to $125 if you wish to use all of the pay lines available in the game. The top payouts of this slot machine can be as rewarding as up to 3000 times of your total stake which is worth up to $375,000. The main game and simple combinations will get you up to 1000 times of your stake and if you wish to aim at the top amount you will need to make the most of the special features of the game which include higher paying combinations and fun free spins that are even more generous. Keep exploring your endless opportunities for Football Fortunes Slots.
Bonuses and Jackpots
The game features both of the most common special symbols you can find in an online slot machine including the scattered and wild symbols. The wild symbol of the game will act as a substitute symbol in a winning combination and will help you hit a win even faster. There is also the generous scattered symbol that will trigger all the fun free spins and sweet multipliers of the game. The scattered symbol will trigger the special feature of the game where you can choose to enjoy either random 8 free spins that will happen at the end of regular spins (Fortune Mode) or up to 100 free spins and 3 times multiplier in case you manage to land at least 3 scattered symbols on your reels. In case you manage to land a Bonus Ball symbol on all of your 5 reels, you will get to activate Penalty Kick bonus that comes with 100 times multiplier. And finally, if you land the wild Ball symbol on all the 1st and 5th reels, you will receive generous 2 times multiplier of your win. Additionally, you will have two sweet progressive jackpots waiting for you at the game. You may be able to hit the sweet growing amounts randomly at any point in your gameplay so some sweet amounts can just come to you as you simply enjoy the theme and your gameplay.