Haunted Opera Slots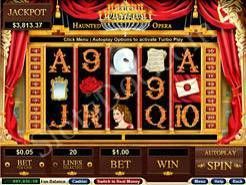 Current Jackpot
$2,330.44
Play Now
Haunted Opera Slot is an interesting, engaging and thrilling slot game that can surely become one of the favorite slots for many gamers. If you do not believe in anything haunted, this game may change your mind. You never know that you may also start believing in Phantoms. But, the most important thing is that this game comes with a lot winning opportunities for the casino lovers. This is typically a 5 reels based game, but it interestingly features 20 play lines. It additionally comes with random jackpot, wilds and free spins. Hidden phantoms come out when you try free spins and that makes the game more engaging. The wild symbol is phantom symbol and sealed letter comes as scattered symbol.
Among various online slot games, a few of the games have become extremely popular among the online casino gamers. Haunted Opera Slot is such a perfect game which comes with exciting game play scenario, interesting features and excellent bonus as well as jackpot rewards. Those, who love thrilling or mysterious games, can consider this game as their best option. In the following section, brief description of this game has been presented for the gamers. Additionally, various bonus features and jackpot options are also explained so that gamers find it conveniently to play this game.
Haunted Opera Slot can be described as non-progressive video slot game which comes with 5 reels and 20 play lines. It features exciting graphical interface. The developer has kept the graphic representation simple yet quite eye-catching for the gamers. The game can be played in two modes and they are Fun Mode as well as real Money Mode. As the names imply, fun mode is for practicing or just playing the game. Real money mode is way more challenging and it will fetch the opportunities of earning money through winning different gaming levels and bonus or jackpot.
Haunted Opera Slot game is based on French novel, namely The Phantom of the Opera. This popular book has been written by Gaston Leroux. When playing the game, gamers will come across a lot of thrilling or mysterious objects as well as moments. Since plenty of objects are there during game play mode, finding the bonus symbols get tricky. Gamers have to keep three important symbols in mind. They are the Phantom, the Mask and the Latter. Bonus symbols and jackpot have been discussed in detail in the following section.
The Mask is basically the wild symbol and it will act as substitute to other symbols. A letter with red seal is basically scatter symbol. It is to be noted that mask cannot be the substitute of the letter symbol. So, in other words, wild symbol will not be able to replace the scatter symbol. When "Letter" lands at 1 and 5 play lines, users are rewarded with five free spins. During the free spins, wild bonus will also get multiplied by 6 times.
Haunted Opera Slot offers progressive jackpot for the gamers. Jackpot can be won randomly and the highest jackpot amount could be 40,000 times of the bidding amount per line.
The game is scary due to presence of phantom. But, the trick is snatching the mask of phantom so that the phantom does not remain a threat anymore. To start game, you have to place your betting bid. Now, you should select the play lines. It is to be noted that gamers can select all 20 play lines and that actually enhances chance for winning for them. Now, press "Spin" button on screen and find the Phantom symbol. You can preselect the number of times you want to spin the reels.
Overall, Haunted Opera Slot is an exciting slot game that comes with plenty of opportunities for winning massive jackpot as well as satisfactory bonus amounts.