Jackpot Cleopatra's Gold Deluxe Slots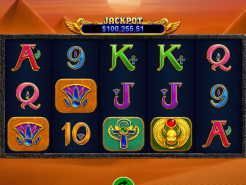 Current Jackpot
$162,102.48
Play Now
You can tell a lot about a slot game just from the title at times… and this is certainly one of those times. You've got a jackpot game here, for sure, and we know the title bases itself around Cleopatra, one of the greatest rulers of ancient Egypt. So, there are no surprises in some areas, but can this slot game spring any surprises in other areas? We are about to find out, so journey with us back to the pyramids to find out more…
Can you guess the developer?
You're thinking of one of your favorite outfits for sure, and if one of those happens to be RTG (Realtime Gaming), you got it spot on.
Don't miss a chance to experiment with the demo
While some progressive jackpot games don't include a demo, RTG games always do. This one does as well.
An ancient theme
No surprises to find we're in ancient Egypt for this one. While it is certainly an oft-trodden theme, we still love it and so do many others, so it's cool to see it in action again.
There is more to this design than you think
The background doesn't look like much to start with, and yet before long, you can see there is a sandstorm whipping up. Are those the pyramids in the distance? Yep, and of course, we have the reels on top of everything.
How does the Jackpot Cleopatra's Gold Deluxe slot play out?
This slot takes on the familiar format of five reels and three rows of symbols, so you won't find anything unusual there. We know it is a progressive game too, and this is confirmed as we spot the jackpot above the reels. Cleopatra takes on her role of substitute symbol here, as she often does in slots bearing her name. The only symbol she can't replace is the scattered pyramid, inside a green square. If you find Cleo in a winning combination, expect double the usual prize.
Fixed paylines in action
And there are 25 of them, so remember that you'll need to cover them all to play each spin.
Just the one wager?
We looked for controls to alter the default dollar bet for each spin and couldn't find any, so it appears that this is your only option.
Where is the paytable?
It appears to the left of the control panel, indicated by a lower-case i.
Any bonus features?
No, not in this game, sadly.
Free spins do feature in Jackpot Cleopatra's Gold Deluxe
Find three of those scattered pyramid symbols in a single spin and you will receive 15 free spins. Everything is tripled in value in these games, unless you scoop the jackpot, in which case you'll be too busy celebrating to worry about that! It's plenty big enough in most cases not to need a multiplier. You can trigger more freebies by finding three more pyramids, so watch for those scatters to see if they can help out.
RTP information doesn't feature
This is the usual way with RTG games, so we weren't surprised to find no mention of this in the paytable.
Does this slot game deserve a high rating?
It is a solid game, certainly, offering a decent free spin round along with multipliers and of course the major jackpot. We're giving it 8/10.
How to scoop the progressive jackpot
You need to find five wild Cleopatra icons on the same payline to get this.
Demo gaming is the ideal way to begin
Many slot players experiment with demo games to start with, and we do the same. If you like what you see when you load Jackpot Cleopatra's Gold Deluxe, we suggest you take some demo spins to start things off.
The real game appears at all leading RTG-powered casinos
And we guess you can think of one or two of those, right? If you haven't joined yet, now is the time to think about doing so. Most RTG casinos have an excellent welcome bonus or package to claim too, so look out for that first.
Mobile gaming on offer too
Cleopatra can accompany you wherever you go if you want to play the game on a mobile device. Android smartphones and tablets are fine for this, as is an iPad or iPhone.