Lions Lair Slots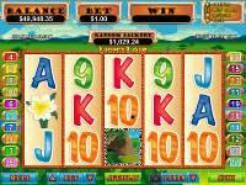 Current Jackpot
$3,024.52
Play Now
Among many online casino slot games, Lions Lair has turned out quite popular for many reasons. It has an exciting game play mode and interesting bonus awards to feature. The most important thing is that jackpot. Gamers have the chance of winning mammoth amount of money by winning the jackpot. Gamers can earn free spins and a lot of money through this casino platform. Your final bonus amount may get multiplied by 2 to 5 times by the bonus symbols. So, in the following section, find some basic information on this game and learn about different gaming symbols. To play this game, a few basics have to be learnt. The most important thing is placing the bet. To place the bet, you need to select play lines. Thereafter, you need to choose coin size. This is a 20 play lines based game that allows the users to place bets on each of the 20 play lines simultaneously. The minimum betting amount is $5 and the minimum coin size is $0.01. When your betting amount is set, you just need to tap the spin button to start with this game. Lion is the scatter symbol of this game and it can substitute any other symbol. When this symbol appears on 2, 3 and 4 reels, your winning amount can be multiplied by 2x, 3x and 5x. To spin reels, there is an "Autoplay" option. You can set the number of times the reels will spin. Therefore, you do not need to tap the spin option manually.
Major Highlights
Some of the major highlights of the game have been described below.
The play line rewards shall be added to total winning sum from this game.
Scatter reward multiplies the winning amount of each play line.
Your winning amount will be multiplied according to the bets you placed on play lines.
The maximum winning possible is 40,000 times of the amount that you have placed on a play line.
As discussed, Lion Lair is the scattered symbol and the most powerful symbol of the game. Apart from the scatter symbol, there must be wild symbol. In case of this game, Lion is the wild symbol. It can replace other symbols. Besides these symbols, a few more symbols can be found in this game. There are flower symbols. There are also symbols like Tiger Paw, Zebra, Lioness, etc.
Bonus and Jackpot
When three or more Lion's Lair symbols appear on the any of the three reels, bonus round gets activated. The bonus comes with 15 free spins. So, spin the reels 15 times for free and win massive amount of money at the end of the game. The game also has random jackpot which has been announced randomly after the end of the game. Jackpot comes with massive winning opportunity for the gamers. Overall, this online casino slot game is quite enjoyable and amazing in terms of bonus and jackpot options as well as features.