Prince of Sherwood Slots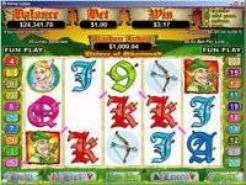 Current Jackpot
$1,629.39
Play Now
If you want to experience the magic of the royal world of Prince of Sherwood and casino together, you can keep yourself involved with the Prince of Sherwood Slots casino game. When it comes to the regal beauty, this casino game represents it beautifully and flawlessly. You will feel that you are in a completely different world once you enter this paradise-like casino slot. This game is all about good things like charity and helping poor people.
You need to benefit Robin Hood, the Prince of Sherwood to steal the money and other expensive kinds of stuff from rich people and to give all these things to the poor ones. There is a challenge for you in the initial steps of the game - you need to find Robin Hood. If you manage to see him, you have higher chances of experience something fascinating. Your winning amount will be doubled if you find Robin Hood in the first attempt.
Important Info:
There are 5-reels in Prince of Sherwood Slots with 20-paylines. Bonus round awards extra coin as well as a chance to win free spins. In addition to extra coin and free spins, it is also capable of offering wild and scatter symbols. Finding extra coins is fun in this game. So, start the beautiful journey of Prince of Sherwood Slots and begin searching the much anticipated extra coins.
How to Play:
Before starting to play the game, you can have a look at the help page. You will be able to understand correctly about the game, rules and regulations, reels, free spins, symbols and jackpot. Moving further, you can go on to adjust your bet according to you. If you are unable to change your bet due to any reason, the betting will be set automatically at $1. And if you are capable of choosing the bet, you can choose anything between $0.20 and $100. As we have discussed earlier, it is a 20 pay line game; you can choose to play up to 20 lines at once. If you want the computer to take control of your game, you can use the Auto play option.
The Prince of Sherwood offers you an exciting bonus feature. If you are successful in getting three or more archery boards scattered with five reels, you can have a chance to enter the bonus round. Here, you will be allowed to choose your player. After selecting your favorite player, you can proceed to the Archery competition. The first round of the Archery competition is about determining a multiplier for your win. You can win up to 100 times your bet. The second round of the competition is to decide the number of free games you can play.
Free Spins:
After deciding your player, you need to reshoot the target to enable the free spin. Some free spins depending on the amount your player is successful to target. Whether it is 5, 10, 20 or 25, the number of free spins are going to decide with the number your player targets. After targeting any number successfully, you will proceed to the final shot to decide the multiplier of free spins. You can multiply your free spin by X2, X3, X4, X5, or X6. It all depends on your luck!
Conclusion:
Prince of Sherwood is a beautiful casino game based on the royal life of Robin Hood. Everything from game play to symbols, bonus, free spin and jackpot, the game is full of some amazing features. You will find it very easy and straightforward to play. If it is your day, you can take substantial winning amount to your home. Good Luck!