Santa Strikes Back! Slots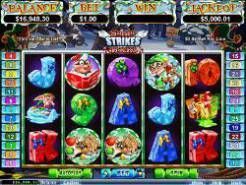 Current Jackpot
$7,656.53
Play Now
Santa Strikes Back Slot
This is truly one of the best Christmas slots we have reviewed yet. It is full of fun, well designed and there are many exciting featured bonuses to bring players cash from the reels. Plus there are a Jackpot spin features where the progressive jackpot can be triggered by any spin. And we have not yet mentioned the free spins, scatters and multipliers and win courtesy of the wild symbol.
Reels and bets
There are 5 reels and 25 pay lines on this slot. It's a 25 line progressive with two bonuses features and a base jackpot of $ 5,000. The maximum bet is 2 coins and coin size starts at just one cent.
Graphics, sound effect and looks
Spin the reel to kick-start the jingle bells melody aloud on piano giving this slot at cherry atmosphere. The graphic is reasonably well designed, but don't expect animated graphics jumping out of the screen this is a 3D slot with some great feature, but it is not rich in motion.
Symbols and its significance
Nonetheless, it is the gameplay and features that are the main selling point for Santa Strikes Back. Who needs animation when you have the chance to win a huge progressive jackpot, bump up your wins via scatter multipliers, and land regular combination wins thanks to being 2 wild symbols on the reels instead of the traditional single wild symbol feature we are accustomed to. Another feature on Santa Strikes back that you will become regularly acquainted with is the free spins bonuses. Lastly, there is the chance to win the huge progressive jackpot that is always ticking up in value on the top of the reels. The only way of releasing this jackpot into your online casino account is getting into the jackpot spins Feature and then spinning the wheel onto the jackpot slot position.
Free Spins
There are 2 free spins rounds. Santa strikes back features will be triggered if 3 or more scatters land on the reels. You will then be rewarded with 7 free spins. Santa, Good Elves and the North Pole will have candy icons attached to their symbol. Each time you collect 5 candy icons, the free spins round is reset to 7 spins and the x1 multiplier is added each time this occurs. The Rudolf Revenge Features begins if there are 3 Rudolf scatters on the reels. Again 7 free spins are given away.
Wilds
Both Santa symbol and Rudolph symbol double up in this game as the highest paying regular payout symbols as well as being the wild symbol. Wild can substitute for any other symbol on the slot.
Multipliers / Scatters
Scatters are basically the Santa, Rudolph, Good Elves and Bad Elves symbols. Stripy blue or the stripy red borders surround their symbols. Land them anywhere on the reels to start a battle between Santa and Rudolf. Whoever wins will kick-start their own bonus free spins round where your wins can have multipliers added by each bonus rounds special features.
Progressive Jackpot
The progressive jackpot is hidden within the jackpot spins features. The bonus has x100, x10, x5 and x2 multipliers of your triggering spin bet, and the chance to win the Progressive Jackpot if you spin the wheel on the Jackpot section. You will be given a certain number of spins in an attempt to win mega prizes.
Conclusion
You honestly do not need an excuse to play Santa Strike back because the theme is so comical that you really can't ignore it. The fact that 2 lovely characters of Christmas have fallen out in the fuse of anger between best pals in just hilarious. If a feature rich and fun packed theme is what you are looking for, then Santa Strikes Back is most certainly for you.