Jackpot Pinatas Deluxe Slots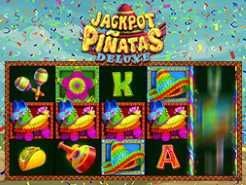 Current Jackpot
$288,314.63
Play Now
You are going to want to do that when you see how much it can offer you in gameplay, action, and features. With lots in store to discover in our slot game review, you're going to see how Jackpot Pinatas Deluxe might turn out to be a good find. So, it's time for a drink or a snack and to find a comfy spot to sit and read our review. Come with us to a Mexican town where the pinatas await…
Developer info
This game is the latest in a giant collection of titles thought up by the brains at Realtime Gaming. We tend to refer to them as RTG as it's easier, especially in written format. So, we'll go with that from now on.
You can still try a demo
Even though this is a progressive game, which some slot developers don't issue a demo for, you can still count on trying one by RTG.
A pinata-filled theme
Yes, and you are in Mexico here, with glorious skies, cute buildings in pastel shades, and cacti populating the background. This should get you in the mood for the action happening on the reels themselves…
We love this design too
We usually knock a point off our score if we see the letters and numbers so often used for the lower-value symbols in a game. However, in this case, they're colorful and each one has an ornate design on it. Not too complex yet it does fit with the theme of the game, lifting the colors to a new level. All the special icons look just as appealing too.
Let's get down to details: How do you play Jackpot Pinatas Deluxe?
If you're ready for a five-reel game, this delivers on that count, offering three symbols to land on each one. The famous jackpot of the title sits above the reels, with streamers flying out on either side. There is a wild pinata to hunt down if you can – look for a starfish-style shape in green and purple, you can't miss it! Find five on a line and the prize is a cool 20,000x your bet. It also substitutes for everything else in view other than the scatter symbol and the special icon. More on those in a second. The scatter is a beautiful sombrero pinata, while the special one we mentioned just now is a donkey in multiple colors.
Fixed paylines in action for this one
You can find 20 of them spread out over the reels. To see their positions, access the paytable and then scroll down to spot the payline area.
How many bets can you choose from?
We accessed the demo for this game and saw a $5 amount on the reels. We assumed that was changeable but could find no way of altering it, so it looks as if you're betting that much on each spin. We guess that's why the game has a jackpot that tends to climb quite quickly.
Look for the small i inside the circle to find the paytable
This is how to spot the paytable. Once you go through to it, you can scroll to read more about the rules and to see all the available icons that could turn up on those reels.
Time to play a pick bonus
That is, you can if you find three of the scatters on the reels. This unlocks the Pick Bonus, where you can choose two out of the three scatters that landed. The game awards instant prizes for this feature, with up to 200x your bet for each one revealed. You might also get another bonus round to play if you find another bonus symbol beneath one of the triggering icons. That could happen more than once as well, meaning you could pick quite a few prizes. But that isn't all because from there, you move on to some free games…
Free spins from the Pick Bonus?
Yes, however long or short the bonus round becomes, you then move on to play some free games. You'll get five, 10, 15, or 25 games at this stage. All prizes get double the usual amounts except for the jackpot, of course.
RTP details
We do not have these as RTG doesn't tend to make them available.
Our rating: Does the Jackpot Pinatas Deluxe slot hit the spot?
We think it does, and we like the way the Pick Bonus plays out. This is clearly the highlight, since the odds of reeling in that jackpot must be long, right? We'll rate this as 9/10 though.
How could you net the jackpot?
Remember the pinata shaped like a donkey in many colors? That's the key. You need to find it in all five positions on the same paid line to trigger the jackpot.
Start with the demo game
This is the perfect way to get to grips with the way everything works in this game. With tons of action on these colorful reels and lots of potentially exciting prizes to watch for, you won't want to be anywhere else.
Will you try the real thing?
Only the real version of the game is going to deliver the real prizes, but you must make sure your budget can stand the high bet needed on each spin if you do this. Jackpot Pinatas Deluxe is going to appeal to a narrower audience, we suspect.
Get this game on mobile too
Whether you like Android or iOS devices, you can play the touchscreen version on your smartphone or tablet too.