Caesar's Empire Slots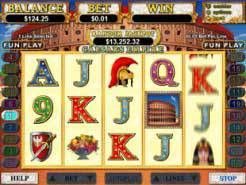 Current Jackpot
$4,168.03
Play Now
One of the greatest empires in antiquity, Caesar's Empire is a slot made to celebrate the old emperor of Rome and all he surveyed in times long since gone forever. The slot, itself, has 5 reels and 20 paylines, along with free games, wild symbols, a scatter and more. The coins can be chosen in a range between $0.01 and $5 for each payline and, since there are 20 of them, you could bet a considerable amount of change each spin. But this, of course, leads to huge wins if it all pans out. Choose smaller coinage if you wish; but always try to play every single one of the 20 paylines for your best chances.
In the free version of Caesar's Empire Slots, you can also play any number of lines between the stated range of 1-20. There, it doesn't much matter if you play all the lines, because you're not risking anything nor can you gain any wins. But in the download version, where real cash awaits you, you can win up to an impressive $2500 on just a single $20 bill by employing all the paylines.
The symbols that are used as icons are many and varied, and include nine through ace from the table game, poker. The wild symbol is the gold Caesar coin, the scatter symbol is the Coliseum, and any wins it provides are multiplied by your total bet. Cleopatra is one symbol, too, and is regarded as a high-paying icon. There's a roman crest, shield and sword, and bouquet of victory flowers, too. The wild is extra special in that it triples your payouts when it leads to wins; the coin shows up on reels one through four only.
Although the pretty queen Cleopatra isn't a wild or scatter, she has got a lot of clout in Caesar's Empire slots - just like she did in real life, when she pretty much ruled the kingdom in his absence. Some say she did even when he was there, using her wily ways and lovely comportment. If five Cleopatra icons appear on the reels, you get the jackpot, which is dependent on your betting amount per line.
The Coliseum scatter helps you out as such:
Two Coliseum icons pay out double your win at 2x
Three Coliseum icons pay out triple your win with a 3x multiplier
Four Coliseum icons pay out ten times your win with a 10x multiplier
Five Coliseum icons pay out one hundred times your win at 100x!
There's a random jackpot hidden somewhere on the game, just waiting to spring out when your luck demands that it is due. Keep playing the real cash version of Caesar's Empire slot for a chance at this bonanza.