Hidden Riches Slots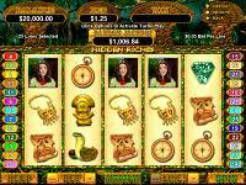 Current Jackpot
$1,005.19
Play Now
Hidden Riches Slots is a five reel, 25 pay line video game from slot maker Real Time Gaming. It has been described as an adventurous foray into the world of cave spelunking - akin to that old box office smash Indiana Jones. Much like in the movie, you are on the hunt for ancient prizes of gold, mystery and intrigue. Along the way you will pick up wild symbols, scatter symbols, the free games and free spins that they deliver in the correct combinations, and mysterious prizes full of excitement and anticipation.
For clear-cut reasons, the name of this slot cannot be Indiana Jones; just in case it ever became popular enough, you can be absolutely certain that the slot makers would receive a copyright strike. Nonetheless, Hidden Riches Slots is still able to freely employ the many beloved characters and icons as symbols on the board from the movie. First of all, you will quickly notice the Harrison Ford look-alike figure as one of the top icons on the board. He comes equipped with that electric smile as well as the unmistakable Fedora hat. The 25 pay lines means that you got plenty of ways to win because of the multitude of cross combinations that are possible.
Although this is a free to play slot, you can obviously download the casino software, make a deposit, receive your Welcome Bonus from the casino House and begin playing with the hope of winning real money. I the coin sizes start as low as 0.01 credits and end up as high as 5.00 credits per pay line. Although you can choose how many lines you wish to play, casino veterans who play for real money always (almost always anyway) recommend playing every single pay line. If you want to control how much or how little you spend, then choose the option of playing just a few credits instead of limiting the number of pay lines - the latter reduces your chances of winning against the House.
As such on a 25 pay line bet, the full amount you can put down on the low end is five credits and the most you can put down is 125 credits for the high rollers. As with most five reel slots, this one pays in the left to the right direction; scatter symbol appearances, however pay any which way.
As for the rest of the symbols, let us find out what they are worth. If the wild adventure symbol shows up on the first, third and fifth reels, he will substitute for any other icon except for the tablet scatter. This substitute symbol has another beneficial attribute: he also doubles the prize in that round if at least one of him shows up. As for the tablet scatter symbol, any associated wins are multiplied by your total bet. Alternatively, five scatters are good for 100 credits, four scatters are good for 10 credits, three scatters are good for three credits, and to scatter tablet symbols are good for a single credit.
The next highest paying symbol is the temple; five of a kind opens a reward of 5000 credits, four of a kind opens a reward of 1000 credits, three of a kind opens a reward of 100 credits and two of a kind 5 credits. All of these values are doubled if they appear with the substitute adventure symbol. Next we have the damsel symbol; five of a kind is worth 2500 coins, four of a kind is worth 500 coins, three of a kind is worth 75 coins, and two of a kind is worth five coins. The emerald totem is also a high-value symbol; five of them equals 500 coins, four emerald totems equals 100 coins, three of them equals 50 coins, and two of them equals three coins - as with all of the previous symbols as well as the ones to come, being paired with the wild adventure symbol doubles the values from the highest to the lowest.
This final set of symbols are the lower paying symbols - as you will find, the money you can win here is still considerable. The cobra and the clock are separate symbols; five of a kind of either one get you 200 coins, four of a kind of either one get you 20 coins, and three of a kind get you 10 coins. The next set of symbols is the decorative water jug and the ethnic necklace. Five of a kind of either one is good for 150 coins, four of a kind of each equals 20 coins and three of a kind of each get you five coins. The final to lower paying symbols are the Cutlass and the map; five of a kind equals 100 coins, four of a kind equals 15 coins, and three of a kind equals just five coins
Lastly for this comprehensive review of Hidden Riches Slots, is the need for you to keep an eye out for the mystery prize bonus round. This replaces your current screen when at least three scatter tablet symbols show up on the reels. To really get in the game here, you will be presented with five sections from which to choose - just wait until the adventurers circle completes its revolution and the magic happens onscreen. A random symbol will be presented and will possess a multiplier that will be awarded to you the lucky player once he adventurers circle symbol descends onto the icon three times in a row. When all is said and done, it is possible to win up to 1000 times your initial bet. Download today and become a real money player in this Indiana Jones style slot from Real Time Gaming.