Rudolph's Revenge Slots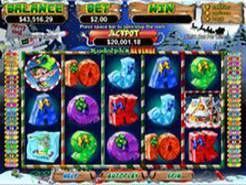 Current Jackpot
$21,383.46
Play Now
Rudolph's Revenge is very clear on the theme; it provides you with 5 reels and 50 plentiful paylines of grand enjoyment on a video slot of massive proportions. Although it's clearly a Christmas holiday theme, it's liberal enough to be played at any time of the year - after all, gold coins are just as valuable in July as they are in December. The tidings are cheerful and the prizes generous; plus, perhaps most importantly for real money players, there are numerous ways to win the many prizes offered. On every win, the animated red-nosed reindeer will perform a little dance for you to your heart's delight - but only if he featured in the win.
It's a Progressive Slot, which always means the jackpot has a chance at being much more highly valued than in slots with fixed payouts per line bet. The include one of Santa's Helpers encased in a block of ice (a bit macabre, if you ask us), a gingerbread house, a Christmas present, and more. Even the card suit icons from poker are dressed up in festive cheer; they look like gifts that are just waiting to be unwrapped.
One rather unsettling symbol is an explosive device sent by Rudolph to Santa Claus, himself. Why would Rudolph do such a thing? Perhaps the years of sledding and sleigh bells ringing has taken a toll on their relationship. Nonetheless, this is the very valuable Wild symbol and can release the full Progressive JAckpot if you get five of a kind on the reels. Otherwise, the wild can appear to supplant any other symbol to complete a winning payline for the associated prize - all except the Scatter symbol, which rebuffs the wild's advances.
The highest paying regular symbol in Rudolph's Revenge Slots is the Old Saint Nick; for five of a kind, he gets you a solid 2000 coins, for four of a kind that's knocked down to 500 coins, for three of a kind, that would be 50 coins and for two of a kind, 5 coins. Next is the macabre Elf in an Ice Block symbol; five of a kind of this one is worth 1000 coins, four of a kind gets you 125 coins, three of a kind is good for 25 coins and two of a kind is worth 10 coins. Next we've got a double dose of icons - the gingerbread house and the angry elf. Both of these are worth the same values for the respective number of a kind. Five of a kind is good for 500 coins, four of a kind gets you 100 coins and three of a kind equals 10 coins.
The final symbols are from the table game poker. Ace, King and Queen are all equally valuable; for five of a kind, you are endowed with 250 coins, for four of a kind you are endowed with 30 coins, and two of a kind gets you 5 coins. The second and final set of symbols on Rudolph's Revenge Slots consists of the Joker, the ten and the nine. These are, for five on the reels, worth 150 coins, for four of them you get 25 coins and for three of them the reward is 5 coins.
Although we touched on the special symbols earlier, we didn't cover the other awards for fewer than five of a kind. Rudolph of course delivers the big jackpot nicely into your lap for five of a kind; for four of a kind, the reward is 1500 coins, for three of a kind, the prize is 150 coins and for two Rudolph symbols on the reels you receive 15 coins. Keep in mind that this Wild symbol also doubles the resulting payout when it appears with other symbols. The Scatter symbol is represented with a Bomb Gift; it cannot be replaced by the Wild; but it does multiply wins by the total bet when it features correctly. For five of a kind, you get 20 coins, for four of a kind, that's 5 coins, for three of a kind that's 3 coins and for two; just 2 coins.
In addition to the prescribed amounts above, the Gift Bomb Scatter symbol will trigger the free games feature if at least 3 of them show up on the reels at the same time. Once this game is activated, you are rewarded with an extra 7 free games with which to keep pushing your good luck on Rudolph's Revenge Slots. Whatever you win is doubled in value, and any Wild Rudolph icons that appear with it adds to this win. As the endgame, the apparently vengeful reindeer will cause the explosion of Santa Claus' vault to unleash all the Christmas presents you could ever wish for. This is only true in the real money version of the game, so consider carefully before you download and play.