Santastic Slots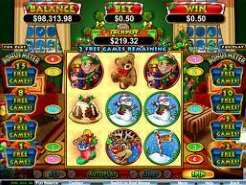 Play Now
Santa is coming to town and when he does, he wants to make sure that he brings presents for all of the good girls and boys. If you're into the Christmas theme and love the way that holiday cheer feels then now is your chance to check into the fantastic Santasic slots that welcome one and all to come out and play in the chilly air. With Santa and his elves by your side, you have nothing to worry about. They have everything you need to make sure you're getting the presents you want under your Christmas tree and more. Find out how you can make your account grow even more.
With the fantastic Santastic slots, everyone is able to take advantage of what comes next with them. With 3 reels and 5 paylines it is not the most exciting of slot machines that gives multiple ways to win, but it is definitely one of those themed ones that is going to make you want to keep playing for some time to come to find out if it is worth it in the end. This can be a great way to make some cash and have some fun, especially around the holiday time. This can get you in the holiday mood and even bring with it some extra spending cash for that holiday shopping.
Are the Santa Graphics Really That Good?
As one of the most cartoon-like, bright slot machines out there you can expect that it is going to be fun to play around with. Not only that, but you can watch as the reels move around the board and land on specific places that really stand out. The sounds that come from the slot machine are what is really going to give away the playing field. It is going to make everyone want to keep playing time and time again. If you are ready for Santa then now is your time to check out what he has to give you and more.
Santa Symbols That are Spun
There are always symbols that have to line up on the board so you need to make sure that you're spinning them in the right way, the winning way. Being able to know what symbols are going to be the higher paying ones or which ones might be the special ones is the best way to go. Once you know this then you are able to take the next step and feel good about the choice you made to choose Santastic as your slot machine choice for all of that extra holiday cash that you need to fill your pockets up with.
Teddy bears, cakes, Santa, elves and more are all welcoming as the symbols that line up and pay out right on the front of the slot machine. You can be sure that you are getting a bit of everything when the time comes. You just have to know which ones are the right ones, since each of them has a different pay table that it adheres too when you are using them. Watch out for the two stocking features, as well as the feast symbol and a couple of other wilds that will show up along the way. These are what many players love to get since they pay out the best and the most during your spins. They double or even triple your earnings when you land on them, making them well worth it.
Santa's Bonuses From His Elves
Santa's elves are hard at work which means that he is able to offer some of the bonuses that you are looking fro in a slot machine. As mentioned above, the stockings can either double or triple the earnings that come up on the screen, so you want to land on them when the time comes to play and cash out on the extras. Additionally, free spins are given when some of the other extras are landed on. You can be sure that you are getting all that you need and want when you land on the right symbols on the board.
If you're ready to get playing then now is your time to do so. You can feel good about the choice you made to move forward with all that they have. You just have to know that they are there to provide you with the best of the best. Take your time and start spinning the reels to find out where you are going to land in the end. You might be surprised to find out what is happening when you cash out with some of the biggest earnings and the ability to play with Santa and his elves. Make sure you get your presents this year!