Naughty or Nice? Slots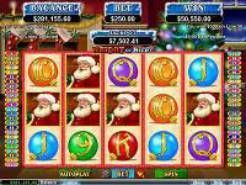 Current Jackpot
$6,280.41
Play Now
Christmas time is almost here, and with it will come festivities and good tidings. Who knew that it could bring so much in the form of an RTG video slot, however? With 5 reels and 50 paylines, Naughty or Nice ? Progressive slots is one of the whales in the online casino gaming space. To make such a big slot less daunting, it's got a double dose of Wild symbols, sky-high valued symbols and Scatters that pay any which way. There are a bunch of animations for every action, making this one of the enviable Real Series Slots that engages your sense of visual acuity as well as your desire for fun gameplay.
As for the betting range, Real Time Gaming had everyone in mind for once when they designed the cash applicable to these paylines. The lowest allowed amount is 50 cents, and the highest is a Jeff Bezos-like $250 per game. Be careful at these levels, though - although there's a lot to potentially win, there's also a lot to potentially lose, as well. Our esteemed advice? If you choose to play for real money, play all of the paylines but keep your coin amount low enough to reflect the realities of your own personal bank account.
The two Wild symbols in Naughty or Nice? Slots are represented by a Bad Girl in Green Garb, and a Good Girl in Blue Attire. Not surprisingly, they are both alluring - which tells you the intended audience of this video slot. Both Wild symbols are capable of substituting for other non-Scatters to complete a winning payline for you, so there shouldn't be too much discrimination in which one you prefer to show up. However, if you're the cheeky type, then it might be the Good Girl symbol - she will pucker up and blow you a red-lipped kiss when she substitutes regular symbols for the win. She also is the harbinger of the huge Progressive Jackpot when 5 of her appear.
The Scatter symbol is the Naughty or Nice Slots logo; 5 of these at a time on the reels gives you 200 coins in addition to unlocking the Feature Bonus Game. Four of these symbols also transports you to the Feature, but you only get 20 coins as part of the package. Three logo icons just opens the Feature. As for what awaits you in the Feature Game, the Substitute symbol will double all the prizes, and every extra appearance by her further contributes to the bonus. There are extra spins to go along with a prize of 20x your starting wager on the paylines at the beginning of the game in question.
How much are the individual symbols worth? Santa Claus is the most valuable symbol - and rightfully so. For 5 of them on the reels, the coin reward is 10000. This is almost like a jackpot in and of itself! For 4 Santa symbols the award is 500 coins, for 4 Santas you get 100 coins, and for 3 Santas you win 5 coins. The next high paying symbol is the grim-looking wife of Old St. Nick - she seems as ice cold as the North Pole. For 5 of a kind, you get 2500 coins, for 4 of a kind you get 250 coins, for 3 of a kind you win 25 coins, and for 2 of a kind the prize is 5 coins. Next up we've got the Reindeer icon; for 5 of a kind he's worth 1000 coins, for 4 of a kind he can get you 150 coins, for 3 of a kind, he's worth 20 coins, and for 2 of a kind he gives you 5 coins.
The lowest-paying symbols come in packs of 2 and 3. We start off with the green gift, and the mistletoe symbols; for 5 of a kind of each you win 500 coins, for 4 of a kind of them you get 100 coins, and for 3 of a kind you win 15 coins. The next set of grouped symbols includes a blue decorative ball with the Ace poker card on it, a red ball with King and a purple ball with Queen. All of these are valued at 250 coins for 5, 50 coins for 4, and 10 coins for 3 of a kind. Rounding out the paying symbols is the group inclusive of the Joker, the 10 and the 9 from poker; all inscribed on a sky-blue ball, an orange ball and a green ball. They are each worth, for 5 of a kind, 150 coins, for 4 of a kind, 25 coins and for 3 of a kind 5 coins.
If you like video slots at all, you'll surely enjoy Naughty or Nice? Slots for the elite graphics and varied symbol combinations that can lead to wins for you. With 50 paylines, it's almost as good as it gets - the only slots with more ways to win tend to be All Ways Pay and still require more than a dozen paylines. You can play on your Android or iOS mobile device, or fire up your good old-fashioned workstation if you're at home and not on the go. Download for full access.