Dragon Orb Slots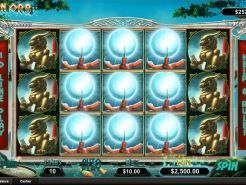 Current Jackpot
$3,559.31
Play Now
Dragons are legendary monsters that are both as fearsome as they are highly-regarded. They had tremendously robust abilities, and served as harbingers of luck and good fortune in the Chinese culture. Real Time Gaming has seen fit to make this 5 reel, 10 payline Dragon Orb slot to appeal to fans of the graceful beasts, soaring as they did through the skies and inspiring fear and awe in the gathered crowd far below. In this slot, many treasures await; you must use the reels and paylines to navigate the board and release the dragon's claws from the orb of treasure in its grip, so that the wealth it harbors can be yours. Do not worry, though - you have got a lot of help in this endeavor with the in-game symbols and attributes, on your march towards the riches that everyone seeks.
Dragon Orb is a progressive video slot, and it possess the attached jackpot. You can play for free if you want; just head to the casino website and opt for the instant play version by clicking the button on the screen. It doesn't require a download; you can play in any Flash-supported browser. This means that Firefox, Chrome, Internet Explorer and Safari can support it. For the real money gamers, you can wager as little as $0.01 or as much as $2.5 on this Asian fantasy slot. Did we mention that it's possible to win up to 250 times your bet with the right arrangement of symbols? Well, it's true - just reference the in game pay table to see how everything breaks down. This slot of prosperity and good luck is a good place to start on your nightly slot run.
Some of the symbols include, for example, an indigo lotus flower, Chinese candles, blue vase, scroll, pagoda entrance, statue and others. Should you uncover the red dragon, this symbol will make you very happy if enough of them line up on the reels. Whichever symbols you find, bear in mind that this is game pays in both directions, which gives you more ways to win. As such, even though Dragon Orb Slots is "only" a 10 payline game, it gives you as many different ways to win as a 20 payline game - at the very least. As with most other slots, what you really want is a good run of 5 symbols across the screen for a big win.
The most important symbol of all is the dragon orb. It is insanely powerful, and is known as the Substitute symbol in other slots. It appears on the second, third and fourth (2,3,4) to replace other symbols by matching the icons and granting you a winning payline. There are respins allowed when this happens, which puts you on the right side of probability when it comes to winning the cash prize. You can also get yet another Dragon orb substitution effect as you're playing the current one. The minor progressive jackpot that's available can be worth around $250, whereas the larger, major progressive jackpot can be around $1000, just might be yours as you continue to get winning combinations of the correct symbols. Your very next spins could leave you a winner!
One of the best things about Dragon Orb slots is that it is available to lower limit gamblers because of the starting coin denomination; this means you can play for real cash by betting the minimum on the paylines, and play every single one without going broke. Perhaps tonight is your night to get a little Chinese luck with Dragon Orb slots; it's available for download at this reputable and safe online casino whenever you're ready. Download it and play.