Wild Fire 7s Slots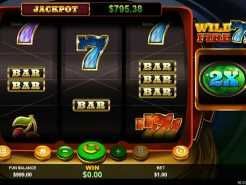 Play Now
That's the question we ask of every slot game we review, but the answer is always different. We do know we can get a few clues to various parts of a slot game from the title alone, but is that true of this game as well? Wild Fire 7s certainly sets itself up with a sensational title, so we were eager to see whether that title was going to lead to an equally wild slot game to play. Come with us to grab some answers to this and other vital questions today.
Which developer should we thank for this game?
We are in the reliable hands of Realtime Gaming here, or as you may know them, RTG. You'll find the game at any casino that uses their software, and there are plenty of those around.
Does this mean there is a demo to play?
Yes, and we think this is the ideal introduction to the slot as well. We have tried to go into lots of detail in our review, but nothing beats loading those reels for a few practice spins.
There isn't much of a theme here
Some of the more basic slot games around have very few elements that suggest a theme. This one veers toward that territory. You should expect sevens to appear, of course, and there are lots of fiery elements built into those. That's about as much as you might expect, although it doesn't mean the game is anything other than entertaining.
Does Wild Fire 7s have a great design?
Have you noticed how some slots don't bother with a backdrop and others go all out to give you a sensational one? Since there isn't much of a theme here, we guess it wasn't surprising to see there was a minimal backdrop in action.
Reels, symbols, and features in Wild Fire 7s
You may already have worked out you're in for a three-reel slot here. We get three icons landing per reel when they stop spinning though, so it's bigger than you'd assume at first. It also comes with a progressive jackpot, which tends to be less common overall with three-reel games. The main reel set does indeed contain three reels but watch for a fourth to spin on the right side of your screen. There is a single symbol on that reel, but it has a vital role to play that we'll come to later in our slot review. There is only one special symbol to look for as you play. You might assume it is a wild since they've mentioned it in the title, but that isn't true. Instead, there is a free spin symbol to watch out for.
Paylines to land prizes on in Wild Fire 7s
There are five lines on that 3 x 3 grid, so the game offers more than you'd get in the usual three-reel slot.
You need to bet at least 10 cents per line here
The game does have a progressive prize, so you can expect the minimum wager to go higher. At 10 cents per line, you'll bet 50 cents across all five lines per play, so make sure you're aware of that. If you thought there would be a pricey top bet per play though, you'd be wrong, as it maxes out at five dollars a spin.
Don't miss the paytable
We hope you're learning plenty from our game review right here, but you can see all the symbols and get some more details about prize amounts if you go to the paytable. This is near reel one of the slot.
The bonus potential here is zero
Plenty of three-reel games don't worry about bonus rounds, so Wild Fire 7s is in a lot of company on that score.
Free spins for you?
This is where the fourth reel livens things up. Whenever you spin the reels of this slot, you need to see if a free spin symbol arrives on that fourth reel. If it does – and remember there is just one spot there, so you need just one to appear – you'll secure seven spins of the reels. Sit back and watch because prizes won during these games reach 5x their usual values.
RTG doesn't release the return to player value
This is common among many of their games, so we weren't surprised to find it lacking here as well.
Our score for the Wild Fire 7s experience
Is it as wild as the title might suggest? Penny slot players won't want to try it, but those interested in progressive slots might want to check it out. If your budget can stand the action, you're looking at a slot that ranks at the 7/10 level with our team.
How can someone scoop the progressive jackpot?
Just as reel four was key to unlocking the free spins, so too it is for the jackpot. This time, you must find the jackpot symbol on that reel to earn your path to collecting that prize. It's a long shot, though.
Play for the spin of it!
The practice version is useful to check out before you play for real, but it is ideal if you merely want to pass the time too.
Find the real game at RTG casinos
Since this is one of their newest titles, you're sure to spot it easily at their casinos.
Mobile gaming also available
If you'd rather play on tablet or smartphone, you can do that if you play Wild Fire 7s on your Android or iOS device.