Boy King's Treasure Slots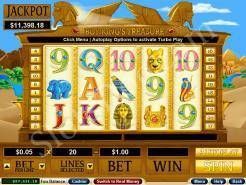 Current Jackpot
$1,057.75
Play Now
For some reason, in the world of slots, two themes tend to be recurring: Ancient Egyptian and Far East storylines. Perhaps it's because these civilizations were so robust, and have contributed so much to the present sphere. Boy King's Treasure Slot is of the Egyptian variety here, and with 5 reels and 20 paylines, offers quite a few methods for you to win something. The Boy King here refers to the Egyptian Pharaoh, and how that old monarch was often a little boy who had been ordained by both lineage and Heaven, according to Egyptian lore.
Those who have played this slot will attest that you can really make a lot of money from it. This shouldn't be surprising, as it is a progressive slot from Real Time Gaming, and these are known to be quite lucrative if you catch them on the right day, and use the 100 coins per payline maximum playing option. It is a brightly-lit slot with golden sands and blue skies in the background, with the recognizable columns of the Egyptian style of architecture in the foreground. The symbols include a blue elephant idol, pharaoh's head gear, mask of the god Set, a bejeweled bracelet, the poker symbols nine, ten, joker, queen, king and ace.
As for the game's layout, there's the bet per line at the bottom of the screen; the maximum bet is $5, which means that a up to $100 per round can be bet in total. If you win during one of the rounds that you bet the max, then you're in line for an easy and quick $1,050 with practically no sweat on your part. The jackpot total is listed at the upper left of the game board. As you see the total amount rise, you'll have a tendency to become excited and lose track of your bet; this is why the amounts are always listed. If you win, the progressive jackpot will reset after paying the amount listed into your account.
The thing you'll like most about Boy King's Treasure are the surprises that are hidden, just waiting to be discovered, The Boy King serves as the Wild symbol, which is alternatively known as the Substitute symbol because it substitutes for most other symbols - as necessary - to help complete a winning payline. The symbol that it consistently cannot replace is the Scatter - but this symbol has other benefits when it appears. The Wild Boy King doubles your prizes and payouts, so it's always a sight for sore eyes.
As with many of the newer slots that are showing up, there's a random progressive jackpot here that essentially always means you're in the game because, no matter your status up to that point, you can win a whole lot of cash. This, more than any other reason, is why Boy King's Treasure slot is a winner. But, as with other real money slots, you've got to download in order to be in the running for some cash. Play today and see if it's your moment to shine.