Goldbeard Slots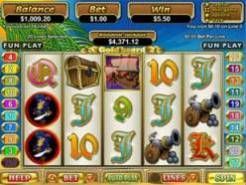 Current Jackpot
$1,159.76
Play Now
Goldbeard Slots is a Real Time Gaming creation that has an attractive five reels and 20 pay lines. It is in the Real Series slot categorization, which promises many new and unique features that other games to not have. You'll run into free spins, random jackpots, wild symbols, bonus rounds, triple payouts and much, much more. In case it wasn't clear, it's a pirate theme, and you have a roaring good time on the high seas in this old canoe style boat. If you're the kind of person to play for real money, then the uproarious good time is exacerbated by the considerable range of point sizes available to wager on this game. From one penny all the way up to five dollars per pay line is accepted, and you can choose any number of lines between one and 20.
The various symbols in the game have different prize award amounts. Let's take the gold coin for example; five gold coin scatter symbols are worth 500 credits. For gold coin scatter symbols are worth 20 credits, three gold coins produce five credits into gold coins will reward you with a single credit. The substitute for a wild symbol is Bluebeard the Pirate. He only appears on the first and the fifth real during the normal gameplay. He can substitute for every single symbol except for the scatter gold coin, and he doubles whatever price you win when at least one of them appear in a winning combination. Does this sound enticing? Well then wait until we get to the highest paying symbols next.
In the pirate ship is the highest paying symbol - flat out. Five pirate ships produced 2500 credits. For pirate ship symbols will net you 500 credits or coins, three pirate ships are worth 100 credits, and two pirate ships give you five credits. The next highest paying symbol is the parakeet. Five parakeets equals 1000 credits, for parakeet symbols equals 300 credits, three parakeets produce 75 credits into parakeets give you just five credits. We'll do the next two symbols together; the cannonball symbol and the treasure chest are good for the same amounts. For five of either, you get 500 credits for four of either one of the symbols you get 150 credits, 43 of them you get 15 credits and for two of them you get to credits. As stated above if the wild Bluebeard the Pirate symbol shows up to replace any of the above symbols, then the payout is double for each number of them on the reels.
The lower paying symbols, as usual, are the card suits from the table game poker. The ace in the King pay the most with five of each giving you 200 credits, four of each giving 25 credits and three of each producing five credits. The Queen and the Joker are next in line; five are worth 150 credits, four are worth 20 credits, and three are worth five credits. Lastly, we have the 10 in the nine - 5 for 100 credits, four for 15 credits and three to get five credits. Again, the wild symbol doubles each of these payouts if it shows up.
Let's take an account of these numbers in real time: five ghost pirate ships, with the wilds appearing on the respective pay line, can produce a win of $5000 on an initial bet of just $20. This is, of course, only if you choose to play the real money games. If you're into slots just for the fun - then this casino is very accommodating. Just play the games in your browser once you head to the website and locate the Instant Play section.
If, however, you want to raise the station play for money, then it is recommended that you play all the pay lines but reduce the point sizes that you play on each line. This has the effect of reducing your expenditures but increasing your chances to win. It is possible to net a $15,000 jackpot on a paltry $20! There's also a random jackpot which is separate from this amount; if luck smiles on you, this huge part of money can show up at the end of any of the games you play. Download now to experience with this online casino has to offer.