Cash Bandits 2 Slots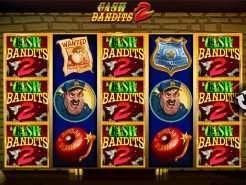 Current Jackpot
$6,925.92
Play Now
Cash Bandit 2 is clearly a sequel to the first version, which was such a hit that it inspired a no-holds reboot. Your zany favorites return in what is, in fact, a crime show with so much cash to be win that it will make your head spin. It has 5 reels and 25 paylines, which is considered to be a large slot that has a host of methods to win. Additionally, there is a minor and a major jackpot that delivers a small boatload of cash into your casino account; and then there's the double dose of progressive jackpots that can release up to 50,000 times your betting amount. There are slot games that you can and should try for free; others, like this, should probably be played for real cash because of the amounts you can win. Practice on the former and make a deposit for the latter.
As an ode to the old game that kids all over the world play, Cash Bandit 2 teaches you that maybe crime DOES pay. On this slot, you can rob and steal all you like, and try to escape the long arm of the law in a manner that you could never try in real life - especially in America, where the police shoot to kill. The second installment of Cash Bandits slots has much more of the same than in the precursor, which is guaranteed to draw the same crowd and then some. You'll never be happier to see bandit icons pop up on the screen in the right combination to shower you with cash and extra chances at playing for more.
So, get your nimble fingers ready to crack the code on that giant vault and get your hands on the gold behind the heavy door. The bandits serve as the Scatter icon, and they give you their ill-gotten gains in the form of free spins when a couple of them show up. When more than two bandits scatter, you could be in line for more cash than you've ever seen at a single time. Sometimes, though, they deliver an almost as good 17x multiplier on your bet, as well as up to 100 free games with which to extend your winning streak.
How does the vault work, you ask? Well, once inside, you have to enter a 5-digit code to unlock the inner compartments where all the cash is hidden. The length of the code determines how good the prize will be. Each version grants you 5, 10, 20, 50 or the big 100 in free games, as well as a certain probability that you retrigger more of them even as you're playing the current one. Did I mention that the available jackpots can occur at the same time? This is called grouping, in online casino gaming parlance. You could really make out like a bandit in this slot if you play your card numbers and themed icons right.
Steady does it; play all paylines and watch the amount of coinage you use for best results. This goes for those who wish to play for real cash. If you just want to have fun, then do not download - just go to the casino website and follow the directions. You'll be playing in your Chrome or Firefox browser in no time. Have fun with Cash Bandit 2 Slots - it's gamers like you that make these new slots so much better and more generous than the previous generation.