Lucky Last Slots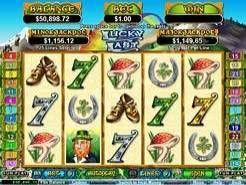 Current Jackpot
$1,002.47
Play Now
You're in for something new when it comes to Lucky Last Slots; unlike so many of the new slots on the board these days, Lucky Last is a member of the so-called Real Series Slots that make the game even more interactive than the run-of-the-mill i-Slots (comparatively). Don't worry though; there are many things about this game that are is familiar and recognizable as most of the other video slots you've played. First of all it's got five reels and 25 pay lines, along with the beneficial stack wild symbols, free game features, random jackpots and tripled payouts with a generous re-triggering rate.
As for exactly what Lucky Last means, it is related to the Irish leprechaun in the many magical emblems that signify that lost land. The colors gold, silver, and green feature strongly in just about every symbol; which include horseshoes, brown shoes and mushrooms and more. The number 7 is very important in Irish lore as pertains to leprechauns, so you will see this in every color mentioned on the reels. The leprechauns a very important symbol of course, and he provides a part of gold as well as great golden coins at the end of the rainbow.
As far as the wagering is concerned, you can play every single one of the 25 pay lines and bet just a penny for maximum of $0.25 per game, or you can bet up to the maximum of five dollars per pay line for a total of $125 per game; the latter certifies you as a gamer in the highroller class - but play responsibly. One of the best methods is to lower the point amount but to make sure you play every single pay line for the most chances to win. Even more enticing is the fact that Lucky Last Slots has a double dose of random progressive jackpots that can unveil themselves at the conclusion of any single-game. The Minor jackpot is big enough; but the Major jackpot is an order of magnitude larger. The amount you win actually depends on how much you bet at the beginning of the game, so let this influence your coin amount just a little bit on the pay lines.
The substitute symbol is the Lucky Goal Coin and it only shows up on the first and the fifth reels, during which it substitutes for any other symbol except for the Shamrock Scatters. As is often the case with substitute symbols, the wild doubles your payout if you're lucky enough to win one at all. The Shamrock Scatter has its own special attribute; any wins in which it plays a part are multiplied by the total amount you put down at the beginning of the game. By the way, the Shamrock is simply a green magic four leaf clover; five of them returns a result of 200 gold coins, four of them get you 25 gold coins, three of them gets you three gold coins and two of the Shamrock clovers get you one gold coin.
The Leprechaun is a very high net worth individual in Lucky Last Slots; five of a kind of this one releases a win amount of 5000 coins, four of a kind releases 1000 coins, three of a kind releases 100 coins and two of a kind five coins. Next up we have the pot of gold that historically appears at the end of a rainbow - this symbol, for five of a kind, unveils 2500 coins, for four of a kind 250 coins, for three of a kind 75 coins and for two of a kind 5 coins. Appropriately, next in line is the rainbow which, for five of a kind, gives you a win of 500 coins, for four of a kind 100 coins, for three of a kind 15 coins and for two of a kind 2 coins. If the Leprechaun gold emblem appears with any of the symbols that pay out, the win amount is doubled in value at all levels.
The lower-paying symbols begin with the silver and green 7s; for five of a kind of these you get 150 coins, for four of a kind 25 coins and for three of a kind 5 coins. The brown shoes and mushroom are next with five of a kind getting the winner 100 coins, four of a kind netting you 20 coins and two of a kind 5 coins. Last and least we've got a smoking pipe and a magnifying glass, where five of a kind is worth 100 coins, four of a kind is worth four coins and three of a kind is good for 2 coins. The preceding should be like a beacon of light to a moth; there's a lot of money at stake in Lucky Last Slots for the real money gamer - download the casino software today to take advantage.