Medal Tally Slots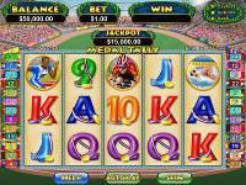 Current Jackpot
$15,074.46
Play Now
Medal Tally Slots:
There are millions of people all across the globe who just love to spend some time of their days while playing games. There could be a number of different games that they might be interested in and a huge majority of that group of people who playing games prefer playing online games these days. There are a number of different reasons behind why those players just love their online games and one of those reasons is that it provides them with the comfort of playing the games they love from within their home itself. There is also a lot more variety when it comes to online games. And one of the best types of online games that you can play anytime you wish is the online casino games. There are a number of different online casino games that you can choose to play. And one of the best online casino games is the Medal Tally Slots.
The Theme of Medal Tally Slots:
This online casino game has around 5 reels and a total of around 25 different paylines. This game is based on the theme that during the Olympics everybody likes to keep a tab on the number of medals that his or her particular country has won. And similarly, this online casino game is there to entice you to win more by bringing in that competitive edge in you by displaying a particular theme of those Olympic medals. This game also has a number of free spins, scatters, wildcards, and medals that you can get to win whenever you play this game. There are also many other large jackpots and prizes that individuals who play this game can get to win if they play this online casino game strategically. You should remember to keep a cool and a calm head while playing this game. There are also a number of different symbols in this game that you can use to navigate in a better manner through this entire game.
The Medal Tally Symbol and Other Important Symbols:
There are a large number of medal symbols in this game. And some of the symbols that you should be on the lookout for are the symbol of a runner who is running in a field in blue, the medal symbol of a swimmer who is seen doing some laps in the pool, and a bicyclist who is seen paddling towards the finish line. All of these symbols signify that you are near to the finish line of winning some big prize or some huge jackpots that are placed in the game just for all its players or users. If you are planning on playing this particular game then it is also important for you to remember that this game is a Real Time Gaming (RTG) Slot game. You can bet as high or as low as possible in this game.
The Controls:
The controls of this game are incredibly easy to understand and remember. This means that no matter the expertise level you have in playing any type of online casino game you can still play and win in this particular game. However, it is suggested that you should go through the rules and the basic instructions that are mentioned in this game. This will help you in understanding the various features of this game in a much better way. There is also a help button in this game that you can use whenever you feel stuck in this game.
The Conclusion:
The Medal Tally Slots is one of the best online casino games that any individual can play at any particular time that he or she might want to. The game has a large number of prizes and jackpots that are scattered throughout the game. The symbols in this online casino game also add on to the entire experience of playing this online casino game.